Find an
Internship
In November each year, Amsterdam Data Science organises a thesis fair where companies are able to meet and match with students enrolled in the Data Science Master Track. This match-making event is an excellent opportunity for students to find the right project for them and companies to find the students they need.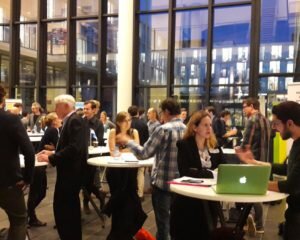 Additionally, our University partners offer a number of outlets, for example:
For Internships:
Student Projects Page, Information Sciences, UvA: Helps students and organisations to find each other, so that together they will make great graduation projects happen. As organisations offer their proposals for projects, students will be able to browse, discuss, and select projects of their choice. We host annual Thesis Fair events, where organisations can be present to meet student. Speeddating sessions are organised to match students with their favorite organisations and projects.
VU Internship Office: The Internship Office for Mathematics and Computer Science at the VU maintains contacts with organisations in various sectors and industries. Some organisations notify of vacancies and projects, but many select their internship students on the basis of open applications.
Master of Computational Science Projects, UvA-VU: Website showing the available student projects options and contact details for Computational Bio-Medicine, Computational Biology, Computational Finance, Complex Systems Theory, and Urban Complex System students at the UvA and VU.
For Vacancies: